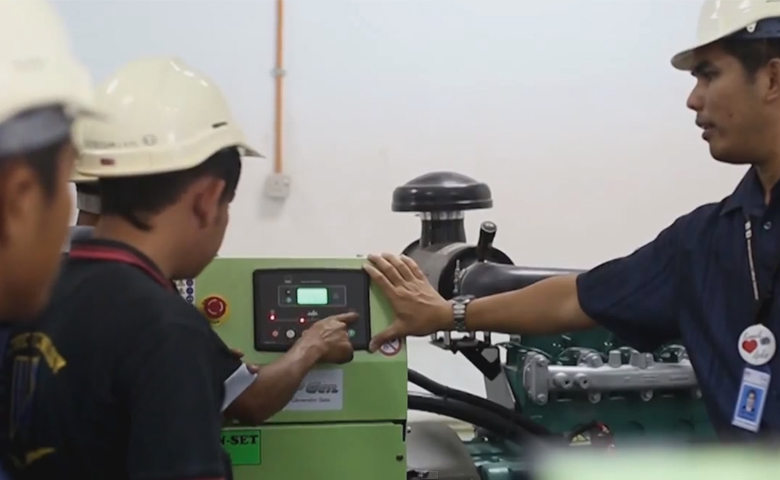 In this course, students will be taught about the methods of installation, handling and testing one- and three-phase wiring. Detect and repair electrical circuit malfunctions. Regulate, maintain power tools, motors and industrial electrical equipment in accordance with the Energy Commission (ST) standards.
CAREER OPPORTUNITIES:
Industrial Automation Technician or other related job.
LIST OF SUBJECTS/MODULES TO BE STUDIED THROUGHOUT THE STUDY :
Semester 1
1.ENGINEERING DRAWING (2D CAD)
2.MECHANICAL EQUIPMENT MAINTENANCE
3.ELECTRICAL EQUIPMENT MAINTENANCE 1
4.ELECTRONIC EQUIPMENT MAINTENANCE 1
5.HYDRAULIC SYSTEM
6.PNEUMATIC SYSTEM
7.JIGS AND FIXTURES MAINTENANCE
8.INDUSTRIAL AUTOMATION
9.CORE ABILITY 2
10.ENGINEERING MATHEMATICS 1
11.ENGINEERING SCIENCE 1
12.ISLAMIC EDUCATION 1 / MORAL EDUCATION 1
13.ENGLISH 1
14.COMPUTER APPLICATIONS
15.KO-CURRICULUM 1
Semester 2
1.ENGINEERING DRAWING (3D SOLID)
2.ELECTRICAL EQUIPMENT MAINTENANCE 2
3.ELECTRONIC EQUIPMENT MAINTENANCE 2
4.MACHINE OPERATION
5.HYDRAULIC & PNEUMATIC DESIGN
6.INDUSTRIAL CONTROL
7.CORE ABILITY 3
8.ENGINEERING MATHEMATICS 2
9.ENGINEERING SCIENCE 2
10.ISLAMIC EDUCATION 2 / MORAL EDUCATION 2
11.ENGLISH 2
12.KO-CURRICULUM 2
Semester 3
1.INDUSTRIAL ROBOT
2.PREVENTIVE MAINTENANCE
3.NETWORKING SYSTEM
4.SUPERVISORY FUNCTIONS
5.ADMINISTRATIVE FUNCTIONS
6.ENGINEERING SCIENCE 3
7.ENGINEERING MATHEMATICS 3
8.MORAL EDUCATION 3 / ISLAMIC EDUCATION 3
Semester 4
Industrial Training
Certification
-Malaysian Skills Certificate Level 2 & 3
(Department of Skills Development)
-Certificate of Technology & Industrial Technology Certificate
(Department of Manpower)
Course Duration
-1 to 2 years at the institute
-3 to 6 months in the industry
Ways to Apply
- The intake of students will be made twice
a year in january and july
- Applications can be made through the following methods :
Apply online on the website
1. UPU (http://upu.mohe.gov.my)
2. JTM (http://www.jtm.gov.my)
3. Download form from www.ilpks.gov.my
4. Come in person to ILP Kota Samarahan
*Advertisement will be issued in newspapers
Home / Application can contact
ILP Training Management Unit Kota Samarahan
ADMISSION
(Minimum)
1. Pass SPM or its equivalent
2. Pass Bahasa Malaysia, Mathematics, Science
(or Physics, Chemistry, Biology) & History
FACILITIES PROVIDED.
1. Pocket allowance of RM100.00 per month.
2. Pocket allowance during Industrial Training RM300.00 per month.
3. Free accommodation.
4. Free Breakfast, Lunch & Dinner.
5. Workshop equipped with modern and up-to-date equipment facilities.