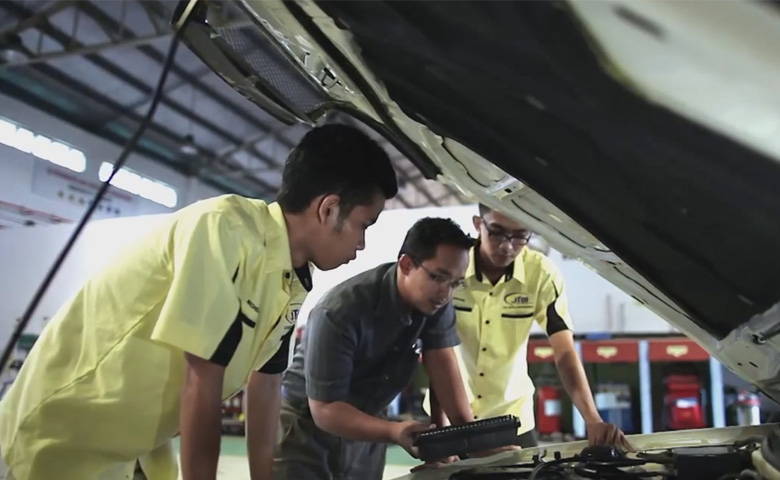 In this course, students will be taught to maintain, repair engines, drive systems, brake systems, steering systems, rafter systems and air conditioning systems, install vehicle components and test drive as well as safety techniques.
CAREER OPPORTUNITIES:
Industrial Automation Technician or other related job.
LIST OF SUBJECTS/MODULES TO BE STUDIED THROUGHOUT THE STUDY :
Semester 1
1.ENGINEERING DRAWING (2D CAD)
2.MECHANICAL EQUIPMENT MAINTENANCE
3.ELECTRICAL EQUIPMENT MAINTENANCE 1
4.ELECTRONIC EQUIPMENT MAINTENANCE 1
5.HYDRAULIC SYSTEM
6.PNEUMATIC SYSTEM
7.JIGS AND FIXTURES MAINTENANCE
8.INDUSTRIAL AUTOMATION
9.CORE ABILITY 2
10.MATEMATIK KEJURUTERAAN 1
11.SAINS KEJURUTERAAN 1
12.PENDIDIKAN ISLAM 1 / PENDIDIKAN MORAL 1
13.BAHASA INGGERIS 1
14.APLIKASI KOMPUTER
15.KO-KURIKULUM 1
Semester 2
1.ENGINEERING DRAWING (3D SOLID)
2.ELECTRICAL EQUIPMENT MAINTENANCE 2
3.ELECTRONIC EQUIPMENT MAINTENANCE 2
4.MACHINE OPERATION
5.HYDRAULIC & PNEUMATIC DESIGN
6.INDUSTRIAL CONTROL
7.CORE ABILITY 3
8.MATEMATIK KEJURUTERAAN 2
9.SAINS KEJURUTERAAN 2
10.PENDIDIKAN ISLAM 2 / PENDIDIKAN MORAL 2
11.BAHASA INGGERIS 2
12.KO-KURIKULUM 2
Semester 3
1.INDUSTRIAL ROBOT
2.PREVENTIVE MAINTENANCE
3.NETWORKING SYSTEM
4.SUPERVISORY FUNCTIONS
5.ADMINISTRATIVE FUNCTIONS
6.SAINS KEJURUTERAAN 3
7.MATEMATIK KEJURUTERAAN 3
8.PENDIDIKAN MORAL 3 / PENDIDIKAN ISLAM 3
Semester 4
Industrial Training
Certification
-Malaysian Skills Certificate Level 2 & 3
(Department of Skills Development)
-Certificate of Technology & Industrial Technology Certificate
(Department of Manpower)
Course Duration
-1 to 2 years at the institute
-3 to 6 months in the industry
Ways to Apply
- The intake of students will be made twice
a year in january and july
- Applications can be made through the following methods :
Apply online on the website
1. UPU (http://upu.mohe.gov.my)
2. JTM (http://www.jtm.gov.my)
3. Download form from www.ilpks.gov.my
4. Come in person to ILP Kota Samarahan
*Advertisement will be issued in newspapers
Home / Application can contact
ILP Training Management Unit Kota Samarahan
ADMISSION
(Minimum)
1. Pass SPM or its equivalent
2. Pass Bahasa Malaysia, Mathematics, Science
(or Physics, Chemistry, Biology) & History
FACILITIES PROVIDED
1. Pocket allowance of RM100.00 per month.
2. Pocket allowance during Industrial Training RM300.00 per month.
3. Free accommodation.
4. Free Breakfast, Lunch & Dinner.
5. Workshop equipped with modern and up-to-date equipment facilities.
Total Visitors : 364853